Computerized Locker & Vault Management means speed and security for your customers.
---
Combining locker management and access control provides everything to facilitate smooth working and makes locker administration simple.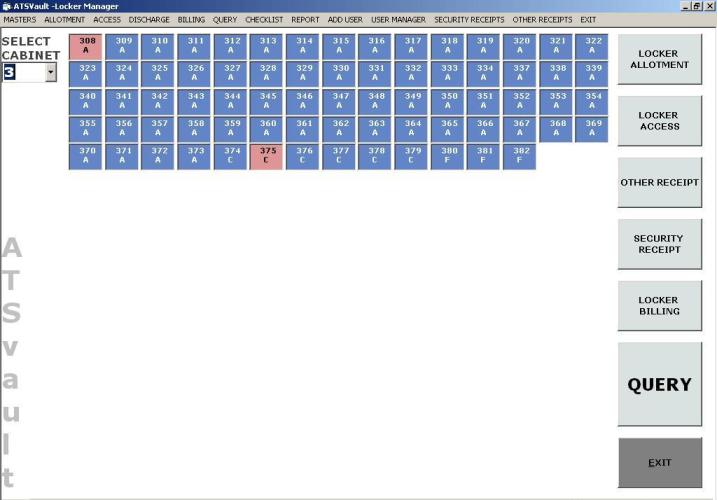 Locker Availability
Cabinet wise locker availability on main screen. Status display of vacant lockers, unused keys.
Locker Allotment
Centralized locker allotment and access report with billing history, photos.
Customer Query
Customer search by Locker no, Key no, Password, Locality etc. Customer contact details.
Outstanding Rent
Rental due Reminder, Statement and Customer Ledger.
Renewal Advice
Outstanding Rent Advice, Invoicing and Rent Receipts tracking.
Signature Verification
Locker holder Signature Verification along with Picture.
Finger Print & Photo
Locker Allotment, Access with PHOTO and FINGER PRINT maching.
Rent Receipt
Generate Outstanding Rent advice and Security Recipt.
Locker Surrender
Locker Surrender / Discharge with outstanding bill settlement.
Locker Access
Locker Access with Password and finger print verification.
User Grant Manager
Create Users and grant multiple rights.
Locker search
Multi-parameter Locker search. Detailed Locker holders record reports.
Locker Allotment to Discharge
---
More then 7 years old the Software is already being used at clients : New Delhi Vaults, South Delhi Vaults, Alaknanda Vaults,India Safety vaults, U & I Vaults, UAE Exchange, Valvet Vaults, Solo Vaults etc.
Want a ATSVault Locker Management Software? You're in the right place!