Computerized Locker & Vault Management means speed and security for your customers.
---
By seamlessly integrating advanced locker management and robust access control functionalities, our comprehensive solution empowers organizations to optimize operations, enhance efficiency, and effortlessly streamline the process of locker administration. With a unified system that brings together the power of efficient locker management and seamless access control, we provide all the necessary tools and features to ensure smooth operations and simplify the complexities of managing lockers with utmost ease.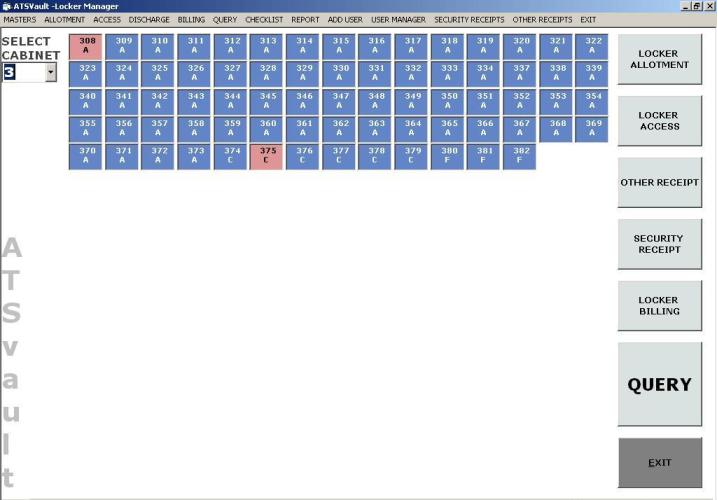 Locker Availability
Efficiently monitor the availability of lockers on the main screen, with a comprehensive status display showcasing vacant lockers and unused keys, organized by cabinets.
Locker Allotment
Experience the convenience of centralized locker allotment and access reporting, accompanied by comprehensive billing history and visual documentation through photos.
Customer Query
Effortlessly locate customer information through a professional search system that allows you to search by locker number, key number, password, locality, and other relevant details. Access comprehensive customer contact details for seamless query.
Outstanding Rent
Send timely rental due reminders, comprehensive statements, and access to detailed customer ledgers for efficient rental management.
Renewal Advice
Ensure accurate and efficient management of outstanding rent with our professional services, including rent advice, invoicing, and comprehensive rent receipt tracking capabilities.
Signature Verification
Enhance security measures with professional locker holder signature verification, complemented by a comprehensive picture verification process.
Finger Print & Photo
Enable secure and seamless locker allotment and access by implementing a sophisticated system that utilizes advanced photo and fingerprint matching technology.
Rent Receipt
Generate Outstanding Rent amount advice and locker Security amount Recipt.
Locker Surrender
Locker Surrender / Release / Discgarge with Smooth Settlement of Outstanding Bill Amount.
Locker Access
Enhanced Security Measures for Locker Access with Reliable Password and Advanced Biometric Verification System.
User Grant Manager
Establish User Accounts and Assign Multiple Privileges.
Locker search
Comprehensive Multi-Parameter Locker Search and Detailed Reports of Locker Holders' Records.
Comprehensive Locker Management Solution from Allotment to Discharge
---
The Software has proven its reliability and effectiveness over the span of more than 7 years, consistently meeting the needs of esteemed clients. Throughout this time, it has been implemented and utilized by a wide range of reputable organizations, including New Delhi Vaults, South Delhi Vaults, Alaknanda Vaults, India Safety Vaults, U & I Vaults, UAE Exchange, Valvet Vaults, Solo Vaults, and many more. Its track record of success and extensive client base solidify its position as a trusted and preferred choice in the industry.
Want a ATSVault Locker Management Software? You're in the right place!